Victorious is a show on Nickelodeon that follows Victoria Justice through performing arts school in her quest to become a singer.
Who is Cat Valentine in Victorious?
Cat Valentine is one of the co-stars of Victorious. She is one of the nicest characters and is lovely and sweet but very naive.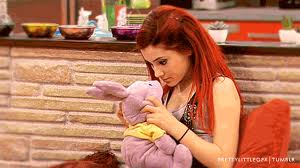 She is constantly hyper, excitable and optimistic and generally a friendly and positive person to be around.

She is excitable and happy but a little immature and often looks towards others to make decisions and deal with mature issues.

Cat Valentine has a good sense of humor and jokes that she is the way she is because her mum used to hold her breath a lot while she was pregnant with her.
She is quite a sensitive character and while she often makes jokes she can take jokes towards her personally and can become easily offended.

Cat's favorite food is velvet cupcakes and her hair is a bright red color that is meant to resemble her favorite, brightly colored food.


How to act like Cat Valentine
If you would like to act like Cat Valentine you need to constantly be: Upbeat

Energetic

Bubbly

Always smiling

Innocent

A little absent-minded and child-like in some ways

Cat can sometimes be thought of as being ditsy and she is obsessed by boys and flirtatious in an innocent and friendly way.
You would have to ensure that you are flirty and fun but also friendly and cute so that both boys and girls like to be around you.