I'm a huge fan of both The Beatles and The Rolling Stones, and undoubtably they are two of the best bands the world has ever seen. However, they have never had the same impact upon me as the first band I became obsessive about, which was Nirvana.
Although this is a really difficult question, I feel compelled to say Nirvana because of their revolutionary affect on popular music. Also, because I spent the majority of my teenage years listening to their songs, and the music connected with and influenced by them.
Nirvana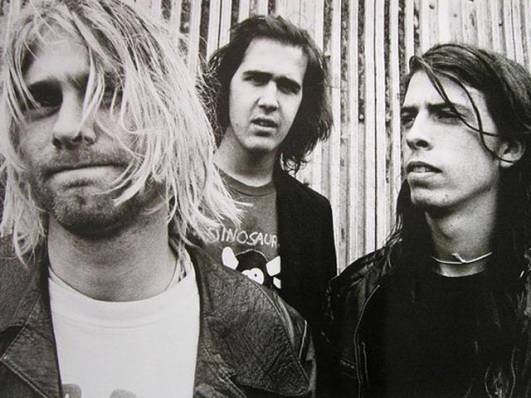 Despite only being in the mainstream spotlight for three years (Nevermind was released in 1991, and Kurt Cobain died in 1994) the band had an enormous impact on people's lives and music. They catapulted alternative rock music into the mainstream, and single-handedly eroded the influence of the self-indulgent hair metal bands of the late 1980s.
Nirvana's music is still immensly popular today, and this demonstrates that they weren't just a 'scene' band - they were great songwriters too. They were also excellent performers, and far from your average rock and roll band. If you haven't already, then I'd recommend checking out their unplugged in New York performance, which is an example of the band playing at their absolute best.
Unlike most modern bands, who tend to find a formula and stick to it, Nirvana's three studio albums are distinctly different. They were never afraid of trying something new, and never played just to their audience. Instead they encouraged the discovery of new music and promoted the need for people not to just listen to what the music industry says they should.
In my opinion they are the greatest band the world has ever seen, and quite possibly my favorite band of all time.