Cameron Dallas is on ask.fm at http://ask.fm/cameron_dallas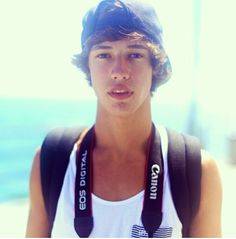 He's busy shooting the Expelled movie, but he recently promised to get even more active on ask.fm and his other social media accounts as soon as production wraps. Dallas is still pretty active on the app where it all started - Vine (http://vine.co/camerondallas) - where he has almost 6 million followers.
Why not try to ask him your question on Twitter. He tweets almost everyday and retweets and answers fans there a lot too.
You can also keep up with his day to day movements as he lives his adventurous life, like when he tweeted about skydiving and soon enough the video of the whole ordeal was posted to Youtube.
He gets up to lots of fun things but he still might have time to answer your question if you give it a try.
His other accounts are:
Facebook http://www.facebook.com/camerondallas
Twitter http://twitter.com/camerondallas
Instagram http://instagram.com/camerondallas
Tumblr http://camerondallas.tumblr.com/