Unfortunately, Vaseline stopped making this several years ago which is a pity as it was good for so many things. This stuff seems to have it's own fan club lol. I need to get some myself now.
However, a similar product is J.R. Watkins Apothecary Petro-carbo medicated first aid salve and this is easy to obtain, especially if you are in the United States. If not, you may have to get it imported.
I'm not sure what country you are in but Amazon.com has it here or you can get it from Walgreens or eBay. All three ship internationally.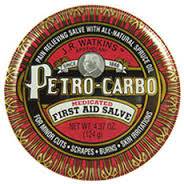 I've found a video for you too, so that you can see get a better idea of the product... and I have to admit that most of the reviews for Petro-carbo on Amazon and on the J R Watkins own website
here
 are very positive!