There are lots of paid versions of the sheet music for Boogie Woogie Bugle Boy by The Andrews Sisters but don't worry because I found a few free links too.
Visit this upload on Scribd for a free downloadable version of Boogie Woogie Bugle Boy available in PDF format. 
You can see it online in your browser's PDF viewer or download it to keep on your computer and print off later if you want. it's your best bet as this is a copyrighted document from MCA Music Publishing for the 1941 wartime hit song. 
Here's another PDF upload on Ejazzlines.com. This one is cool because it has lyrics and lines for all the instruments needed for the full band to play.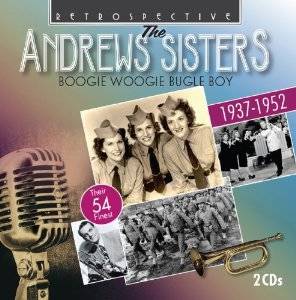 Also check out Mindformusic for even more full free sheet music for all the instruments played on Boogie Woogie Bugle Boy.
Boogie Woogie Bugle Boy was ranked the 6th song of the century by the Recording Industry Association of America so you know it was a big tune of the time. 
It has been covered by Bette Midler, RnB group En Vogue and it has seen a resurge into popular culture thanks to a 2010 performance from Keri Hilson, Katy Perry and Jennifer Nettles at the VH1 Divas Salute The Troops show.