Dorothy Wang's mother is not Vera Wang. Her real mother's name is actually Vivine - and you'll be forgiven for not knowing that, because Vivine always tries to stay out of the limelight.
As you can probably guess, the last name Wang is common among families of Asian descent, so it's merely a coincidence that Vera and Dorothy both share the same name.
As anyone that's seen Dorothy Wang on E! Channel's #RICHKIDS OF BEVERLY HILLS knows, the Wang family is very rich.
Dorothys father Roger Wang  is the chairman and CEO of the Golden Eagle International Group. Roger Wang is married to Vivine Wang, and they are pictured here: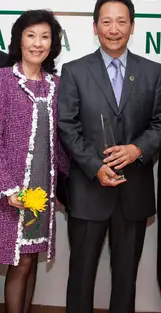 Their daughter Dorothy is now a famous TV celebrity, and has a promising career ahead, even though she describes herself as currently "funemployed"