3 Answers
No, Jennifer Lawrence does not have a tattoo at this current time.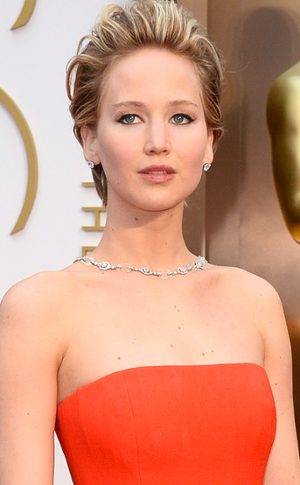 However, many young celebrities decide to get tattoos and receive huge amounts of media attention for them. Recently, Cara Delevinge, who works as a model got a tattoo of a lion on her index finger, apparently encouraged by friend and fellow celebrity Rihanna.
Many celebrities are renowned for the art work on their body. Angelina Jolie has over a dozen tattoos on her body including the location coordinates for where all her children and her husband Brad Pitt were born.
Johnny Depp even has a whole website that is dedicated to him and his tattoos which has been created by his admirers.
http://johnny-depp.org/johnny/tattoos/
Jennifer Lawrence as a celebrity has often prided herself on not following the crowd and being different from other celebrities. She depicts herself as following a normal diet, not enjoying the celebrity lifestyle very much and being just as normal as the rest of the public.
Jennifer Lawrence is 24 years old, born on 15th August 1990 in Louisville, Kentucky in the USA and is 5"9. She is best known for playing Katniss Everdeen in the Hunger Games series and Mystique in the X men series as well as Ree in Winters Bone.
Jennifer Lawrence's career began when she travelled to Manhattan at the age of 14 where she was auditioned by an agency. They immediately liked her and she was put to work shooting advertisements. They liked her so much that she was invited to stay and work in New York by the agency. She then begun a very successful acting career. In 2012, Jennifer Lawrence earned the Academy Award, Golden Globe Award, Screen Actors Guild Award, Satellite Award and the Independent Spirit Award for Best Actress for her role in Silver Linings Playbook.
When I was checking her on nudogram.com I didn't notice any tattoos. Maybe I didn't detect them because I was kinda disturbed ( ͡° ͜ʖ ͡°) but still. By the way, visit this link and check yourself. And other celebrities too