There is no movie version of Wicked - the Musical...at least not yet.
There have been plans to make a film version of Wicked for the last ten years, but very little has come of those plans as yet. The rights to make the movie are owned by Universal Pictures and that is about all that's certain.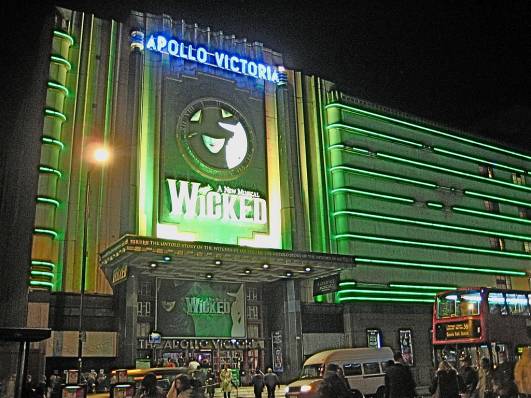 It is believed that Universal are waiting for the popularity of the original stage production to fade, in order to maximize the box office potential of a film version of Wicked, but with the musical still pulling in the crowds wherever it plays around the world, that could be a long time coming.
This Hasn't Stopped Speculation On Who Might Appear in Wicked - the Movie!
The two original leading ladies, Idina Menzel and Kristin Chenoworth, feel it is unlikely they'd star in a film version, given their current respective ages, with Menzel joking she'd as likely play Elphaba's mother rather than Elphaba herself!
In March 2014, The Guardian newspaper reported that Universal were interested in casting Harry Styles and Lea Michelle in the possible movie version of Wicked, with Stephen Daldry as director. The newspaper also suggest the film might see released around Christmas 2015, but there is still no production start date for a film of Wicked at the time of writing. 
Here's more on the Harry Styles rumour if you're interested: