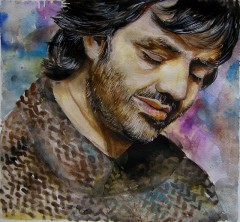 Andrea Bocelli is an Italian singer and music producer. He is considered to be the fourth tenor and has four full operas to his credit. He is suffering from congenital glaucoma. He had poor eyesight since the time of birth, and lost it completely after being involved in a soccer accident at the age of twelve.
He spent his childhood at a farm in the region of Lajatico, in Tuscany. He started to learn the piano when he was six years old, later mastering the flute as well as the saxophone. He was discovered by Zuchhero Fornaciari and Luciano Pavarotti while auditioning for the opera called 'Miserere'.
He has been credited by Pavarotti as having a voice comparable to his own. He has performed with artists such as Celine Dion, Eros Ramazzotti etc.