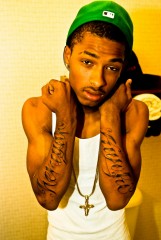 It appears that Legacy (or Dominic Thomas) doesn't have any tattoos on his body, whereas his band-mate Ben J (or Earl Benjamin) has several.
Who are New Boyz?
New Boyz are an American hiphop/rap group that originally formed as a 'Jerkin' style dance crew. Their first hit 'You're a jerk' went viral in the summer of 2009 and their album Skinny Jeanz and a Mic has been on the forefront of the 'jerkin' genre coming to international attention.
Their rise to fame has been something of an 'overnight phenomenon'.
To highlight this, their first concert in 2009 was held during a basketball game at Bishop Alemany High School in Mission High, California- and the band now regularly sell out venues across America and are considered style and cultural icons.
Ben J's tattoos
Whilst there doesn't seem to be any evidence of Legacy committing himself to some permanent ink, pictures of Ben J sporting several tattoo designs appear on several internet sites. One tattoo that has a particular poignancy seems to be the name of his young daughter Kemaya, which appears on his forearm. Other tattoos that feature on Ben J's body are the logo of the LA Dodgers (a Californian baseball team) on his torso, and the words City of Angels (in reference to Los Angeles) across his chest.
For some photographic evidence, why not check out this link to a page of candid Ben J photos at concerts and self-shots taken on his cell phone.
You can also enjoy the New Boyz hit 'You're a Jerk' here: