I've a hunch the song you're referring to is actually 'I Have A Dream' by the hugely popular Swedish band ABBA. This isn't as strange as it sounds, as a Spanish language version of the song, Estoy Sonando, was also released as a single.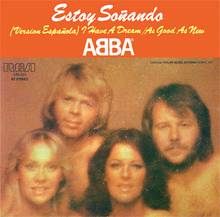 This is the only ABBA single featuring singers outside of the band itself, namely the children's choir which joins in with the chorus. The original recording featured children from the International School of Stockholm, although when the song was performed live on tour, the choir would come from a school local to the venue.
'I Have a Dream' was released in the UK on December 7th, 1979 and reached no.2 in the UK Christmas single chart two weeks later. ABBA's last ever public performance as a band came on the BBC light entertainment program The Late Late Breakfast Show, transmitted live on December 11th 1982, during which they performed 'I Have A Dream' on a set decorated for Christmas.
These dates have strengthened the impression of 'I Have A Dream' as being a Christmas song, though it isn't directly about Christmas.
ABBA frequently recorded Spanish language versions of their hits. The Spanish version of 'I Have A Dream' reached no.3 in Mexico and no.9 in Spain, in September 1979.
Here's the video for Estoy Sonando. Is this the song you heard?