I'm sure 'Don't mess with an angel' (Cuidado con el Ángel) will be as gripping as always, but I wouldn't want to spoil your enjoyment by telling you what actually happens...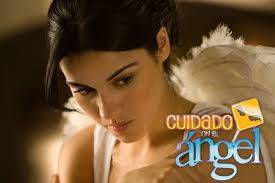 Cuidado con el Ángel was first televised in Mexico in 2008 and the show ran until 2009. It was very popular with millions of viewers all over the world and it seems it is still running in some countries today.
As I don't know what country you are in, I don't know what part you are up to, so I don't want to give too much away, otherwise it would spoil it for you!
I have family members who enjoy telling me exactly what is going to happen in my favourite soap, yet I am the type of person who likes to follow along, and not find out what happens until it happens on screen.
I do feel sorry for Marichuy in 'Don't mess with an angel' though, the poor girl doesn't have much luck does she?