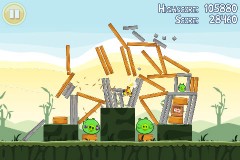 There really is to be a movie based on Angry Birds. Plans are afoot to bring this massively popular (and arguably time-wasting) game to the big screen.
Makers Rovio have enlisted some Hollywood big guns to help them in their quest, including recent recruit David Maisel, the chairman of Marvel Studios who produced Iron Man. This has led many to believe that, while the film may be based on the game, the result may not be Angry Birds as we know it.
Since the game's release back in 2009, over 400 million people worldwide have downloaded or played the game and its many variants.
Rooster Teeth have already produced a series of short live action films, taking their own spin on the gaming franchise (which can be found here), but the latest plans are to take the franchise to a full-length run, with Rovio producing a series of short videos promoting the film to be released next year.
Rovio are trying to amass over 1 billion fans, and are one of the gaming world's most famous success stories.
For more on the story, see the ITN News report below. Enjoy!