Rob Zombie sings the song from Entourage season 3, episode 3 credits.  The song is called Dead Girl Superstar.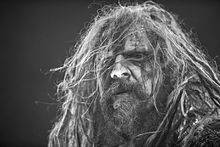 About Rob Zombie
Rob Zombie was born Robert Bartleh Cummings on 12th January, 1965.
He shot to fame through his band White Zombie in the 1990's.
He has released five studio albums as a solo artist, alongside three compilation albums, a live album, two remixed albums, and even a video album.
Rob Zombie has gone on to direct a number of horror films, including House of 1000 Corpses, The Devil's Rejects, Halloween, and also directed an episode of CSI: Miami.
Rob Zombie has been a vegetarian for over 30 years, and is now a vegan.
He's also a supporter of People For The Ethical Treatment of Animals.
Rob Zombie is also able to play guitar, bass guitar, and can work with synthesizers.
He's also commonly known as Mr. Zombie, Rob Stalker, and Rob Zodiac.
Here's a video of Rob Zombie's "Dead Girl Superstar":