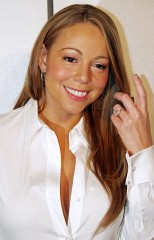 The famous singer and the heart throb of millions of fan; Maria Carey was born in Long Island in 1970, on 27th March. She moved to New York City at the age of 17. Right after she graduated high school, she wanted to move forward in the field of singing, then she made friends with Ben Margulies, who was a keyboardist and with him she started writing songs.
She got her first big break on a studio session with a dance-pop singer Brenda K. Star, as a backing vocalist. It was this great singer who handed the tape to Tommy Mottola and it contained Carey's songs which she sang. Mottola listened to it on his way home. And he was completely touched by her talent.
Over the years she sang a number of songs. Most of them are romantic and love songs; she also sings hip hop and classic. "Vision of Love", "Love Takes Time", "Someday" and "I Don't Wanna Cry", are some of her unforgettable songs. She got Grammy awards over night as a Best New Artist and Best Female Vocalist. But the 2000s did not turn out her way, after singing an 80-million-dollar deal with Virgin which turned out to be a huge hit on the records
In December 2002, she released her album, "Charmbracelet" which eventually failed to gain success. And it nearly took her three years to follow up, than she found another hit in the year 2005 with The Emancipation of Mimi, which was one the most successful records of the years.